March features at MYTHIC DELIRIUM now live: Trent, Sng, Clarke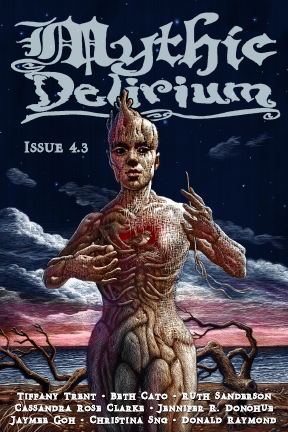 The final features from our Winter issue are live on the site!
With "The Papyrotomist," Unnaturalist Series author Tiffany Trent takes us to a dark carnival where a performing artist practices a novel form of amputation.
Bram Stoker Award winner Christina Sng spins verses on the growth of horrors in "Born of Blood and Tears." Novelist Cassandra Rose Clarke evokes ghostly desire in the beautiful and chilling "Porphyria's Other Lover."
Our double-sized twentieth anniversary issue is just around the corner, with fiction by Edith Hope Bishop, A.T. Greenblatt, Kate MacLeod, Benjanun Sriduangkaew, Maria Haskins, and Janna Layton; poetry by Virginia M. Mohlere, Kyla Ward, Maya Chhabra, John Philip Johnson, Peri Fae Blomquist, and Davian Aw; and touching cover art by Hjalmar Wåhlin.
So make sure you come back. We look forward to seeing you then!
#SFWApro